What Are Varicose Veins?
Varicose veins and telangiectasia (spider veins) are common conditions that can occur on both the face and the body. Both conditions are characterized by redness and dilated or enlarged blood vessels that are often difficult to conceal, even with makeup. These conditions can occur on their own or can be associated with rosacea. We have many devices to treat dilated blood vessels. The Pulsed Dye Laser (PDL), for example, has been the most used device to treat this condition.*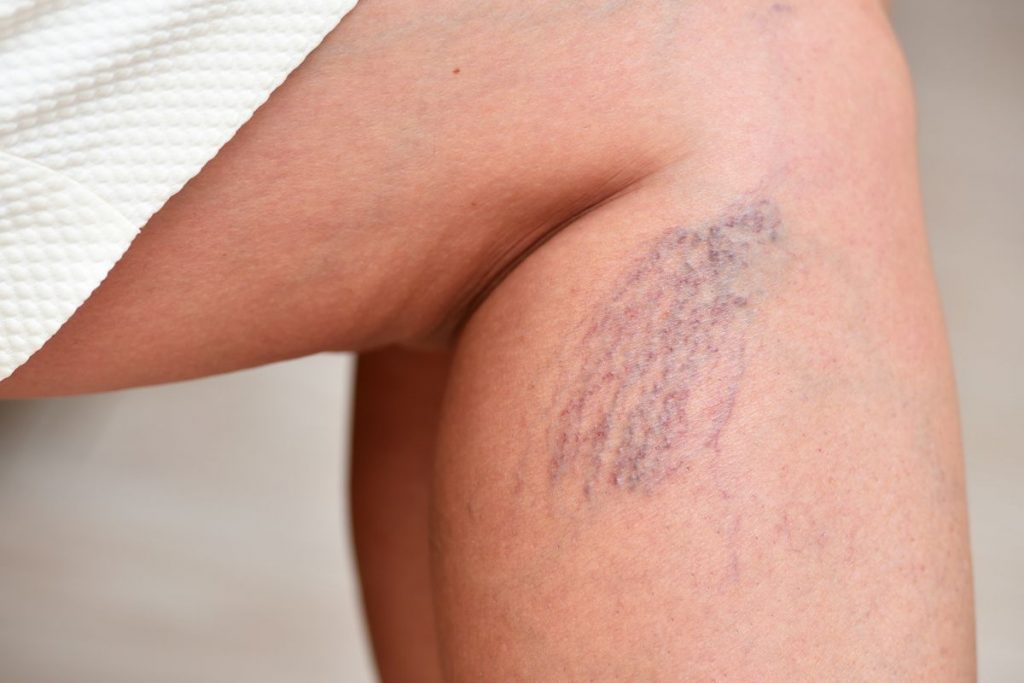 How Does Treating Varicose Veins with Lasers Work?
All of our lasers work through the use of concentrated energy. By directing this energy to your treatment areas, we can effectively shrink the size of your varicose and facial veins. Once shrunk, these veins will gradually become less noticeable over time.
Who Is Eligible for Varicose Vein Treatment?
Varicose veins and other similar issues are not usually a serious health concern, but they can be painful. Those who have superficial veins on their faces and bodies can be good candidates for laser treatment. However, treatment with the PDL, Max G (IPL), and Cynergy laser can be painful and result in bleeding, bruising, and infection. If you are suffering from a skin or heart condition, you may not be eligible for this treatment.
Schedule Online
What Lasers Work Best for Varicose Veins?
We have found that the combination of PDL at 595nm with Nd-Yag laser is useful for facial telangiectasia treatment and especially helpful for blebbed port wine stains and other vascular abnormalities.* We have a great deal of experience treating port-wine stains. The PDL is currently the treatment of choice for this problem.*
Recently, we have also done basic clinical research on a new, high-powered Intense Pulsed Light (IPL) device referred to as the Max G. This device is effective for treating facial vessels. One of our recent publications shows that this new device is equal in efficacy to the PDL. We invite you to visit our photo gallery to see before and after pictures of our patients treated with all of these devices.
Currently, sclerotherapy is the treatment of choice for leg veins.* Lasers and light devices also are helpful for this problem. We have a great deal of experience in using the Cynergy laser. Improvement that is comparable to that seen with sclerotherapy can be seen using the Cynergy laser on appropriate vessels.* We are also doing research on the IPL Max G device for this problem and our results are encouraging.
What to Expect During Varicose Vein Treatment
During your treatment procedure, a hand-held IPL device will be guided along your body or face, depending on your treatment needs. The session will probably last 20 or 30 minutes, but large areas can take an hour or more to treat. Laser vein treatments can sting a little, and have been described as feeling like someone is snapping a rubber band on you. If you are concerned about discomfort, we can offer a numbing cream to put on 30-60 minutes before treatment starts.
How Long Is Recovery Time?
One treatment typically results in about a 50-85% improvement in the appearance of facial blood vessels* Our research on improving this technology resulted in the new Cynergy laser. This combines the use of a PDL at 595nm with a Nd-Yag laser. Following your treatment, you may experience some redness and irritation. Your skin may feel sunburned for 4-6 hours following your visit. Ice packs or applying a cool washcloth to your skin can help relieve any pain and discomfort that you may be feeling.
Schedule Online
Request an Appointment in Sacramento, CA
Dr. Tanghetti's work has been published in journals such as Lasers in Surgery and Medicine, Journal of Dermatologic Surgery, the Journal of Cosmetic and Laser Therapy, and Cutis. He is a fellow of the American Society for Laser Medicine and Surgery, and a member of the California Medical Association, the American Medical Association, and the American Academy of Dermatology. For a consultation to discuss laser vein treatments, call us at [916] 454.5922 or complete the form below.