What Is PicoSure?
PicoSure is the first and leading choice for comfortable and convenient tattoo removal and skin revitalization, treating wrinkles, acne scars, pigment-like freckles, sun spots and discoloration. Instead of relying solely on heat for results, PicoSure delivers energy rapidly and with less heat, minimizing tissue damage and discomfort. Its revolutionary technology works with the body's natural healing processes to restore youthful skin via collagen and elastin production.
Dr. Tanghetti is a leader in the field in Picosecond technology; his studies have provided foundational research on LIOBs (Laser Induced Optical Breakdowns), which shows why the PicoSure is so effective for skin rejuvenation. See what Dr. Tanghetti has to say about PicoSure in Aesthetic Medical Practitioner magazine.
How Does PicoSure Work?
Picosure works with your body's natural internal healing system to remove your tattoos and/or revitalize your skin. PressureWave technology is used to deliver ultra-short pulses of specialized energy to targeted ink particles; the ink is then broken apart into tiny dust-like particles. These tiny particles are then absorbed by the lymphatic system and eliminated naturally, reducing the appearance of your tattoo. To help you look younger with revitalized skin, this treatment taps into your body's built-in ability to heal as well: When your skin cells are exposed to PressureWave technology, "cell signaling" occurs, prompting your body to release proteins. These released proteins then elicit a healing response, resulting in improved collagen and elastin production for a fresher, brighter, and younger look.
PicoSure's special technology known as PressureWave™ uses a wavelength of light (755nm) and a specialized lens to convert laser energy into gentle pressure. This pressure squeezes cells, activating the natural cell signaling processes that create new collagen and elastin without burning or damaging the skin.
Who Can Benefit From PicoSure?
PicoSure is for those who want to remove their tattoos or improve the appearance of their skin without the risks, pain and downtime of traditional laser treatments. If you're bothered by freckles, sunspots, tattoos, and other discolorations, PicoSure can help such pigment conditions. Further, for those who want brighter, younger looking skin – total skin revitalization – PicoSure leverages the latest innovations in medical science to improve wrinkles, age lines, and even acne scars.
Schedule Online
What Does PicoSure Treat?
PicoSure is for the removal of tattoos and benign pigmented lesions (e.g., pigment-like freckles, sun spots and discolorations); it also treats acne scars, wrinkles and provides overall skin revitalization.*
For Tattoo Removal, PicoSure utilizes PressureWave technology to work with your body to remove unwanted ink. Delivering laser energy to specifically target tattoo ink, the ink particles are successfully shattered without harming the surrounding tissue. It works on virtually any type of tattoo – including tattoos that are of black ink, multi-colored, stubborn, or previously treated.
For Skin Revitalization, this device improves the skin and reduces signs of aging. Using highly targeted energy, PicoSure gently disrupts the particles responsible for a range of pigment conditions like freckles, sunspots and other discolorations. With its revolutionary Focus lens, PicoSure leverages innovations in medical science to improve wrinkles, age lines and even acne scars.
THE PICOSURE PROCESS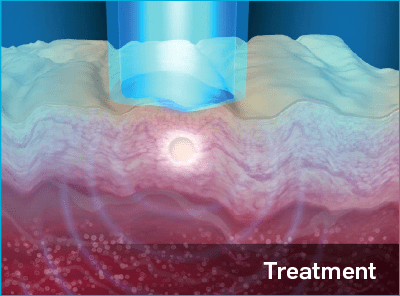 To activate cell signaling, the Focus Lens Array delivers 20X the energy density of a normal PicoSure pulse.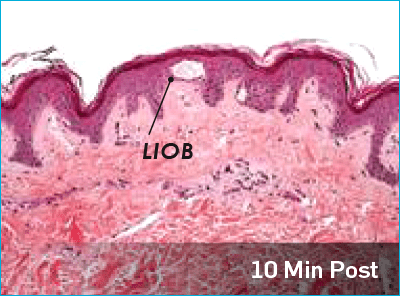 Pressure waves, formed and caused by Intra-epidermal Laser Induced Optical Breakdowns (LIOBs), propagate into the dermis, triggering pressure injuries to activate cells.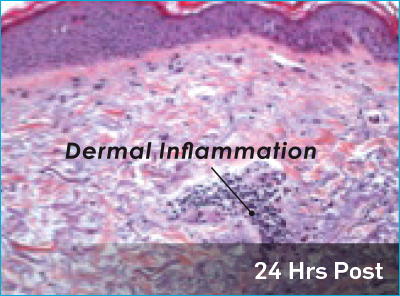 Initiating an enhanced inflammatory healing response, Cell Signaling leads to increased collagen and elastin. The result is brighter, healthier, younger looking and revitalized skin.
What to Expect During Treatment
With PicoSure, there's no preparation needed beforehand and procedures typically take about 10-15 minutes. Most people find the experience painless and describe treatments as feeling like the snapping of a rubber band. To minimize any possible discomfort, Dr. Tanghetti and his associates may offer numbing cream to minimize any possible discomfort.
How Long Is Recovery Time?
PicoSure offers a shorter recovery as compared with other tattoo removal and skin revitalization treatments. Because it uses gentle pressure instead of dangerous, damaging heat, there's no long, painful recovery. In fact, most patients only experience a few hours of mild redness. With PicoSure, you need not sacrifice safety, comfort or convenience for the results you desire.
Request an Appointment in Sacramento, CA
Dr. Tanghetti's work has been published in journals such as Lasers in Surgery and Medicine, Journal of Dermatologic Surgery, the Journal of Cosmetic and Laser Therapy, and Cutis. He is a fellow of the American Society for Laser Medicine and Surgery, and a member of the California Medical Association, the American Medical Association, and the American Academy of Dermatology. For a consultation to discuss PicoSure, call us at [916] 454.5922 or complete the form below.