What Is SculpSure?
SculpSure is a non-invasive laser fat loss treatment, which is different from any other body sculpting treatments.* SculpSure was developed to reduce the size of hard-to-target pockets of fat on the body.* Many patients who visit Dr. Tanghetti for this treatment do so to reduce double chin, belly fat, "love handles," or fat on other parts of the body, like bra rolls.* The procedure is non-invasive, lasts for about 25 minutes, and the only sensation experienced by the patient is a gentle heat at the treatment site.*
Best of all, SculpSure can be combined with other treatments, such as TempSure Firm and ZWave. Click here to learn more.
Who Can Benefit From SculpSure?
SculpSure is ideal for people with pesky pockets of fat situated around the core section, under the chin, in the love handles, stomach and back – areas that tend to be particularly resistant to diet and exercise.* The ideal candidate may have an extra 20 pounds to lose but is not considered obese. These treatments are not an effective solution for patients who fall into the category of medically obese. Fill out the form at the bottom of this page for your complimentary consultation today!
How Does SculpSure Work?
The basic idea behind SculpSure is to heat up fat cells to the point of severe damage.* While other non-invasive fat treatments rely on freezing fat cells or heating them up with radiofrequency waves, SculpSure utilizes laser technology that is fine-tuned to target fat cells while avoiding the surrounding tissue. After the fat cells have been heated beyond repair, the body will break them down and remove them via the lymphatic system.* This is a very important distinction from dietary fat loss, where the fat cells shrink, but their quantity remains the same. With SculpSure, the actual number of fat cells is decreased – a process that makes the results more long-lasting.*
Schedule Online
What Does SculpSure Treat?
SculpSure is made to deliver heat directly to areas that seem to store the most fat. These areas include the abdomen, submental area (double chin), back, thighs and love handles. During your SculpSure heat treatment, the device will damage the fat cells in these treatment areas while keeping the rest of your body cool. After the fat cells are damaged, they will dissolve and naturally leave your body through the lymphatic system.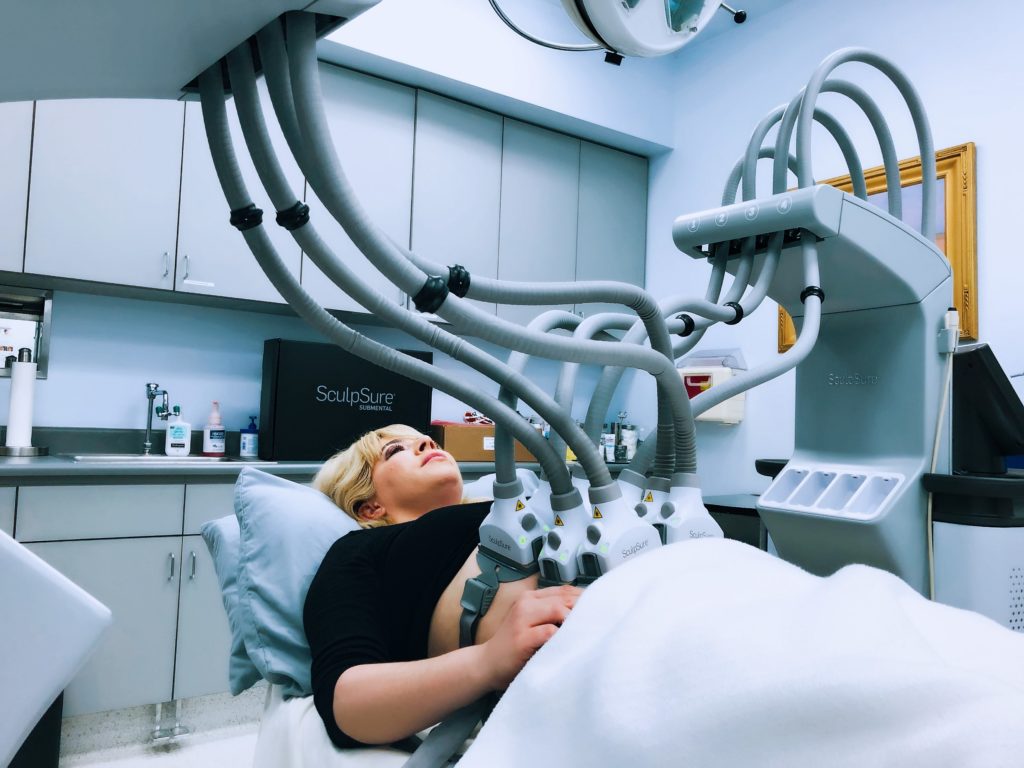 Schedule Online
Double Your SculpSure!
At the Center for Dermatology and Laser Surgery, we have two SculpSure devices and can treat double the areas in the same amount of time! We are the only office in the region to have two of these devices at the same clinic, so schedule your consultation at our practice today!
How Long Is Recovery Time?
SculpSure treatments are non-invasive and result in no downtime. After your visit, you are free to return to your daily routine. If you feel any discomfort following your treatment, using cold compresses and/or taking acetaminophen (Tylenol) can help relieve pain.
When Can Results Be Seen?
Noticeable fat reduction through SculpSure can be seen after approximately six weeks following your treatment. Once the targeted fat areas are treated by the device, stored fat will dissipate and results will be long-lasting. Fat buildup will slow or even stop in the treated area, allowing you to better regulate your weight. For best results, multiple treatment sessions are recommended.
SculpSure Submental for Double Chin
Many people notice it to one extent or another: The dreaded double chin. This is how we typically refer to submental fat, that fat that collects under the chin and around the neck, affecting your profile and your overall facial appearance. While losing weight may assist in reducing a double chin, many people are dismayed to discover that even after weight loss, they are not seeing the slimmer look and facial profile they desire.
That's where SculpSure submental treatments come in. With our special submental fat attachment, we can target the submental fat cells in your neck and chin area, destroying them for good to dramatically improve your profile as well as changing the way your face looks from the front for the better.*

Request an Appointment in Sacramento, CA
Dr. Tanghetti's work has been published in journals such as Lasers in Surgery and Medicine, Journal of Dermatologic Surgery, the Journal of Cosmetic and Laser Therapy, and Cutis. He is a fellow of the American Society for Laser Medicine and Surgery, and a member of the California Medical Association, the American Medical Association, and the American Academy of Dermatology. For a consultation to discuss our SculpSure treatments, call us at [916] 454.5922 or complete the form below.