There are several treatment options for improving the look of hyperpigmentation and wrinkles. After extensive research for laser technology, our team at the Center for Dermatology and Laser Surgery in Sacramento is proud to offer patients treatments via the Discovery PICO Series. This highly innovative system represents the gold standard of precision and power. Manufactured by Quanta Systems, The Discovery Pico is internationally renowned for offering treatments with peak power, four separate emission modes, and three true laser wavelengths. This versatility allows the laser to provide a variety of treatments for just about every skin type. If you're ready to improve the look and feel of your skin, schedule today and ask about our laser skin treatment options.
How Does Discovery PICO Work?
Discovery PICO combines industry-leading peak power with precision to provide our patients optimal results with minimal discomfort and downtime.The system's Optibeam II handpieces give us the ability to perform tattoo removal, minimize benign pigmented lesions, and target acne scars as well as wrinkles with a dual laser treatment. The major benefit of this system is that the laser also induces collagen remodeling while clearing your complexion of damaged skin.
What Skin Types Does Discovery PICO Treat?
Discovery PICO lasers are designed to deliver a wide range of safe & effective treatments for all skin types. These innovative lasers can minimize benign pigmented lesions, remove acne scarring & unwanted tattoos, and smooth fine lines & wrinkles by replenishing collagen production. If you have any concerns about your eligibility for treatment, we will work with you to determine whether you are a good candidate.
What Does Discovery PICO Address?
The Discovery PICO's Optibeam II handpieces give our team the ability to perform tattoo removal, minimize benign pigmented lesions, and target acne scars and wrinkles with a dual laser treatment that provides collagen remodeling and removal of damaged skin. The most common concerns we address using this system include:
Unwanted Tattoos
Benign Pigmented Lesions
Acne Scarring
Fine Lines & Wrinkles
Collagen Loss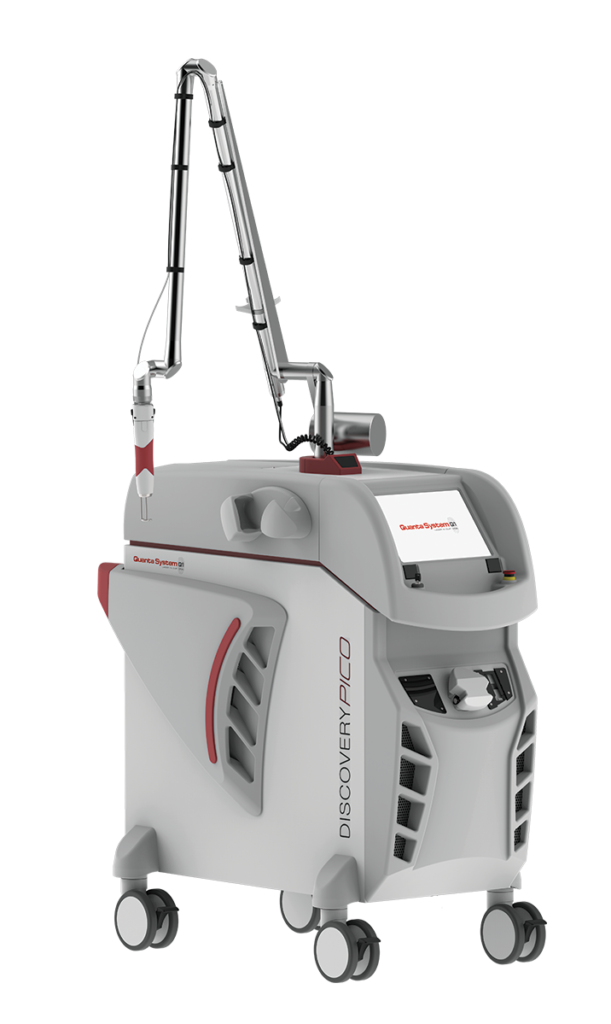 What to Expect During Treatment
The Discovery PICO lasers are designed to deliver comfortable treatments while reducing recovery time. The lasers treat pigmentation as evenly and precisely as possible to eliminate hot spots and promote natural healing. The number of treatments you will need varies depending on your desired outcome. During your consultation, our specialists will be able to determine your treatment plan.
How Long Is The Recovery Time?
It is common to experience dry skin the week following your treatment. To counteract this, we recommend using gentle cleansers, moisturizers, and sunscreen during this time. After one week, it is safe to resume your normal skincare routine. Post-care instructions may vary depending on your desired treatment.
Schedule Online
Request an Appointment in Sacramento, CA
Dr. Tanghetti's work has been published in journals such as Lasers in Surgery and Medicine, Journal of Dermatologic Surgery, the Journal of Cosmetic and Laser Therapy, and Cutis. He is a fellow of the American Society for Laser Medicine and Surgery, and a member of the California Medical Association, the American Medical Association, and the American Academy of Dermatology. For a consultation to discuss Discovery PICO treatments, call us at [916] 454.5922 or complete the form below.
THE SKIN CORNER
Committed to educating you on the latest technology and medically directed products.
Learn More
CLINICAL TRIALS
If you suffer from adult acne, two research studies are being conducted for adult volunteers with acne on the face and/or back.
View Current Trials