What Is Laser Scar Removal?
The Center for Dermatology and Laser Surgery has more than 15 years of experience in the treatment of the entire spectrum of facial acne scars, surgical scars, and scars secondary to trauma or auto accidents through the use of laser scar removal technology. Generally, scar revision uses laser technology to help soften the look of red or raised scars by decreasing the thickness and redness.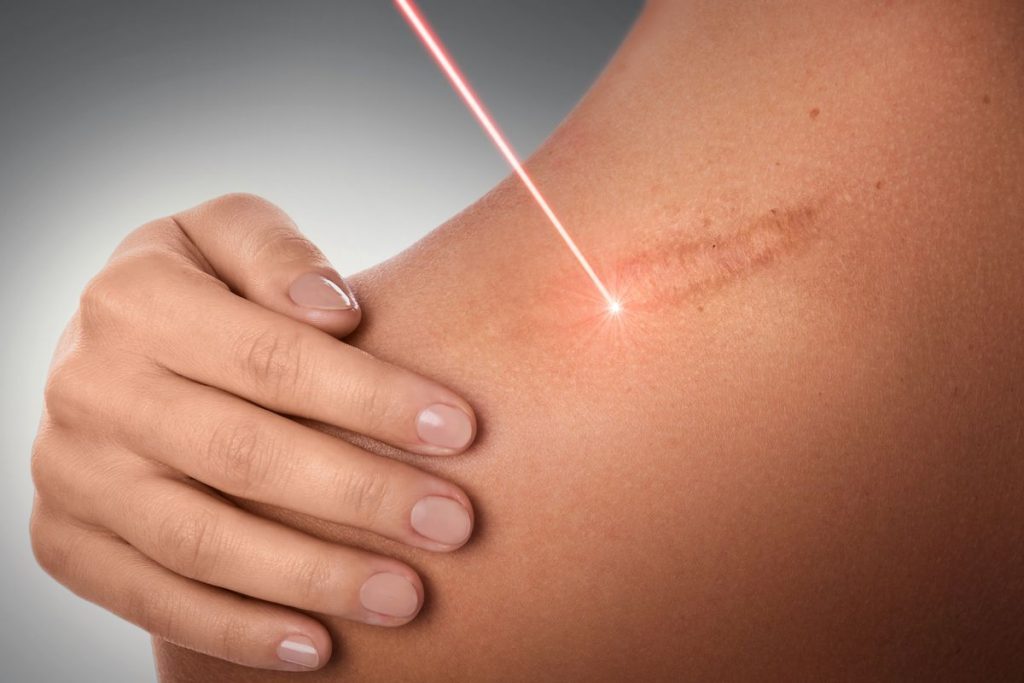 What Can Laser Scar Removal Treat?
Facial acne scars, surgical scars, and scars secondary to trauma or auto accidents. Acne scars can appear in many ways: tiny holes, uneven or depressed areas of the skin, or raised scars that appear red or pink. At the time of your consultation, Dr. Tanghetti or his associates will make sure your scar is treatable with our laser.
Who Can Benefit From Laser Scar Removal?
If you have facial acne scars, surgical scars, and scars secondary to trauma or auto accidents, then you may be a candidate for laser scar removal with The Center for Dermatology and Laser Surgery.
What To Expect During Treatment?
Typical scar removal treatments last roughly 30 minutes. Shortly after your session, you may experience temporary redness and swelling at the treatment site. This swelling typically subsides after a few days.
How Does Laser Scar Removal Work?
Laser scar removal treatments reduce the appearance of skin damage through the use of focused light therapy. Our specialized lasers are ideally calibrated to remove the outer layer of the skin's surface and stimulate the production of new skin cells to cover damaged cells. After receiving one of our laser treatments, your skin will improve naturally over time.
How Long Is Recovery Time?
As with all laser procedures, patients should not be tan for the treatment as the laser light targets melanin in the skin. It is common to have redness and swelling after these treatments and sometimes bruising. Due to the intensity of the different treatments a topical anesthetic may be applied for certain laser procedures. The downtime is short and generally compatible with daily activities.
Schedule Online
Request an Appointment in Sacramento, CA
Dr. Tanghetti's work has been published in journals such as Lasers in Surgery and Medicine, Journal of Dermatologic Surgery, the Journal of Cosmetic and Laser Therapy, and Cutis. He is a fellow of the American Society for Laser Medicine and Surgery, and a member of the California Medical Association, the American Medical Association, and the American Academy of Dermatology. For a consultation to discuss our scar revision treatments, call us at [916] 454.5922 or complete the form below.