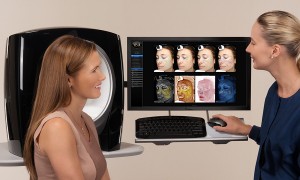 The New Year is bringing exciting new changes to the Center for Dermatology and Laser Surgery! We are excited to announce the addition of the VISIA Complexion Analysis System to the Skin Corner. The VISIA will change the way you look at your skin.
A VISIA imaging session uses multi-spectral imaging and analysis to capture key visual information for six areas affecting complexion health and appearance: winkles, spots, pores, evenness, porphyrins (evidence of bacteria in pores), and UV spots (characteristic of photodamage, typically from overexposure to sun). Additionally, VISIA provides an informative comparison of your complexion's characteristics to those of others of your same age. The comprehensive information enables you to determine the optimal treatments and regimens which are right for you. A printed report allows you to take home the details of your imaging session.
We are currently accepting appointments for VISIA Complexion Analysis starting on January 2nd. If your New Year's resolution involves self improvement, a VISIA analysis is the perfect way to start off 2013!