We've extended our offer on our favorite combination treatments, the Tetra CO2 CoolPeel + Vivace RF Microneedling!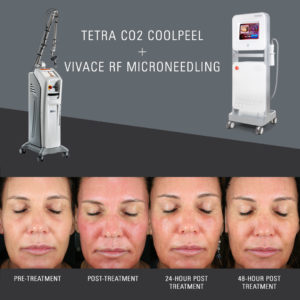 Reveal healthier, younger-looking skin with our two favorite treatments! Tetra CO2 CoolPeel reduces fine lines, sun damage, and pore size all while improving skin texture and the Vivace system is an FDA-cleared, non-surgical treatment for brightening and tightening the face, neck and body which stimulates the production of collagen and reduces fine lines and wrinkles using the best-in-class microneedling with RF device.
For a limited time, receive a series of 4 treatments for $4400!*
Call us at [916] 454.5922 or request your appointment online today.
*Offer expires 2/29/2020.